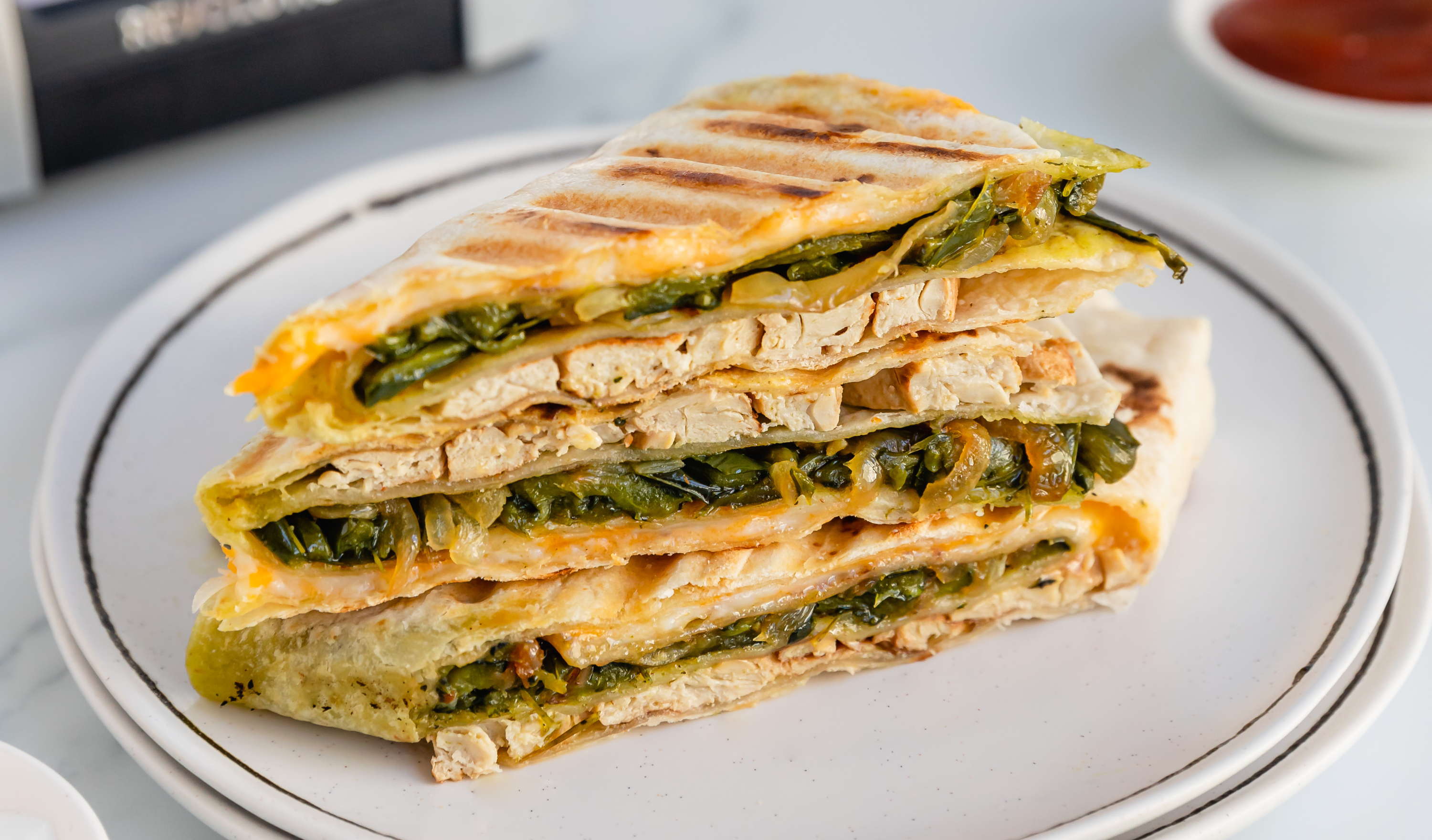 The Plot Chickens: Traditional Grilled Chicken Quesadilla
| | | |
| --- | --- | --- |
|  Active time: 5 min | Cook time: 3-6 min | Serves: 1 |
 
Want to know what happens in this page-turner? You make a freakin' delicious quesadilla then you eat it while you feel lucky to be alive during a time of such great food.
What's not to love about juicy chicken and melty cheese right? But if the poblano is too hot for you, swap it for a bell pepper. We're not here to judge. We're here to make your wildest sandwich dreams come true.      
Equipment
Ingredients:
1 (12-inch) flour tortilla
½ cup Mexican Cheese, shredded
¼ cup pulled chicken
1/2 of a yellow onion, thinly sliced
1/2 poblano pepper, diced
1 tsp. butter, optional
Directions:
COOK IT.
Melt some butter or olive oil over medium heat in a skillet.
Add thinly sliced onion and poblano and cook until brown and tender (about 5-7 mins).
Take off the heat and set to the side.
STACK IT.
Warm the pulled chicken in the microwave for 1 minute, or in a small pan on the stovetop over medium heat until warmed through. 
Using a sharp knife or scissors, cut a line from the bottom to the center of the tortilla. 
Now build your quesadilla. We recommend a maximum of 4 ingredients or less for optimal toast through.
Add fillings in four sections.
Next, it's time to fold.
Starting at the bottom by the slit, fold one section over the other section and continue around until it makes one triangle quartered shape
Prefer to make this as a Pocket Fold? See how
HERE
!
TOAST IT.
Now put it in the Toastie Press and close and lock the press. Wipe around the outside of the press to clean off any drips with a paper towel. 
Place the filled Toastie Press into the right slot of your Revolution Toaster with the handles facing out.
Now make your next selection based on the model you have:
LOVE IT.
Serve with sour cream and salsa. Enjoy!

 
SHARE IT WITH US.
Have you made the The Plot Chickens in your Revolution InstaGLO® Toaster with Revolution Toastie Press? Post a photo on Instagram and tag @RevCooking!
Introducing the Revolution Toastie Press
Because big appliances are a big pain.
We're going to assume we don't need to sell you on the idea of a toastie. Who doesn't love the melty-deliciousness of a pressed sandwich, right? But big appliances are, well, a big pain. You need to lug them out, they can be hard to clean and they take up valuable counter space. This toastie attachment is our solution: Simple, compact and super easy to use it gives you the sandwiches you love, minus the mess and hassle you don't.
Heats up quickly: Deliver the toastie of your dreams in seconds not minutes. (Learn more about our safe, eco-friendly InstaGLO technology here!)
Easy to clean: Wipe down with a sponge or pop it in the dishwasher.
Small footprint: Stash it with your coffee, in your bread box or just sit it in the toaster when not in use.
Faster. Smarter. Tastier.
Shop now.