Betsy English's Mortadella and Pesto Toastie
What You Need:
Mortadella (thinly sliced)
Mozzarella (thinly sliced)
Pesto
Lemon zest
Arugula 
Sourdough bread
Who Created It: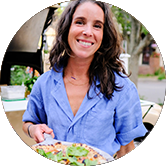 Owner & Pizzaiola of Quanto Basta in Portland, Maine. I started my career in food over ten years ago as a baker focusing on laminated pastries (i.e. Croissants). I moved to Rome and worked at the Rome Sustainable Food Project, which to this day continues to inspire and influence the way I cook.
How To Make It:
A Rome-inspired Toastie desire!
STACK IT.
Put all your ingredients on either side of your bread slices. 
TOAST IT.
Put the sandwich inside the Revolution Toastie Press and close it well. 
LOVE IT.
SHARE IT WITH US.
Have you made the Mortadella and Pesto Toastie with your Revolution Toastie Press? Post a photo on Instagram and tag @RevCooking!
Introducing the Revolution Toastie Press
Because big appliances are a big pain.
We're going to assume we don't need to sell you on the idea of a panini. Who doesn't love the melty-deliciousness of a pressed sandwich, right? But big appliances are, well, a big pain. You need to lug them out, they can be hard to clean and they take up valuable counter space. This Toastie Press attachment is our solution: Simple, compact and super easy to use it gives you the sandwiches you love, minus the mess and hassle you don't.
Heats up quickly:

 

Deliver the toastie of your dreams in seconds not minutes. (Learn more about our safe, eco-friendly InstaGLO technology here!)
Easy to clean:

 

Wipe down with a sponge or pop it in the dishwasher.
Small footprint:

 

Stash it with your coffee, in your bread box or just sit it in the toaster when not in use.
Faster. Smarter. Tastier.
Shop now.