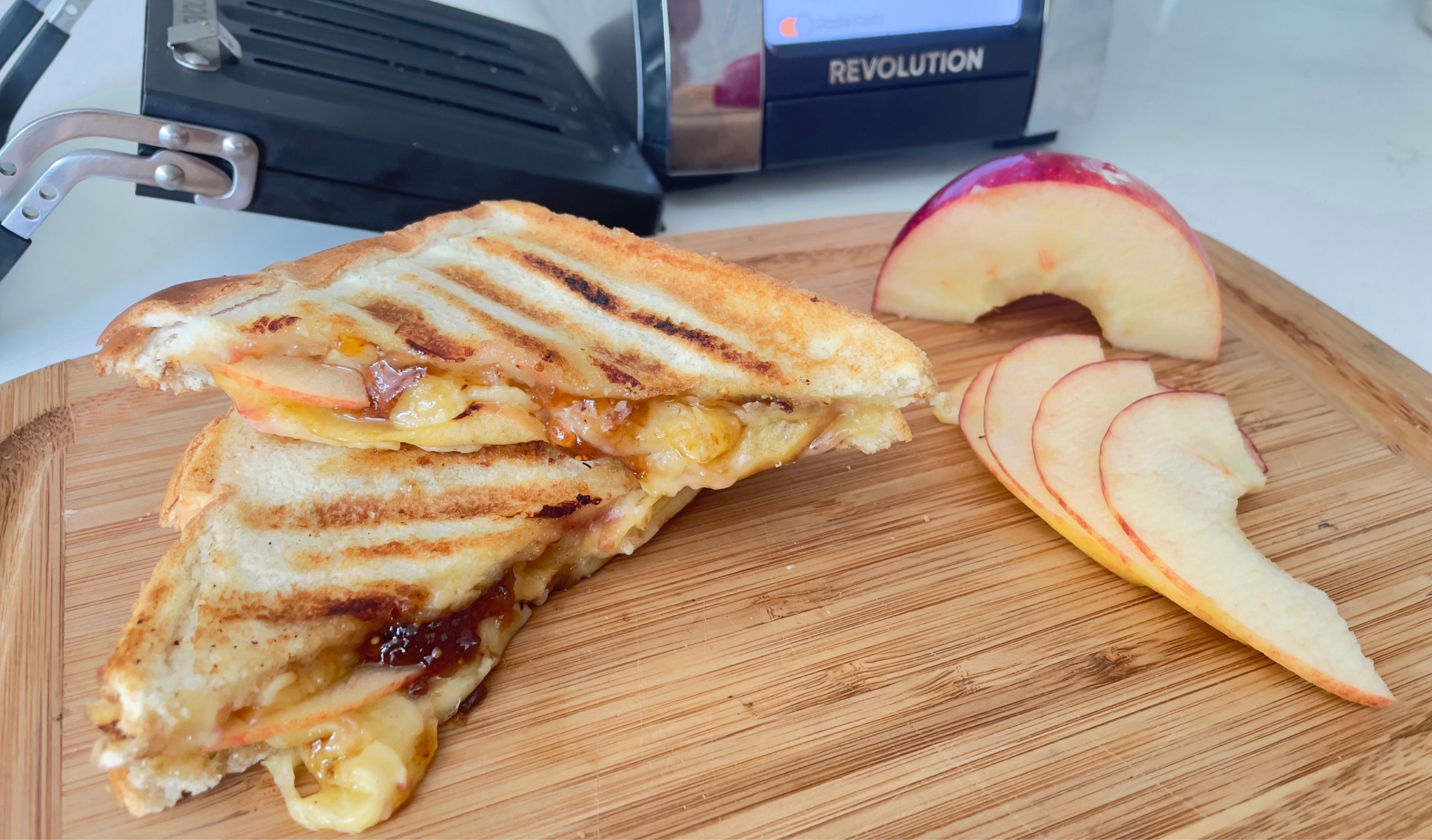 The Vermonter: Cheddar, Apple, and Fig Grilled Cheese
| | | |
| --- | --- | --- |
|  Active time: 5 min | Cook time: 6 min | Serves: 1 |
There are two kinds of people in the world. Those who welcome fruit into their sandwiches and those who think fruit is a dessert or snack and should stay in its lane. For those in the first camp, we give you the Vermonter. A savory-sweet combination of sharp cheddar, tart apples, and sweet fig jam — a flavor profile perfected by our fellow New Englanders in the Green Mountain state (hence the name). We know you'll embrace it with an open mind, an open heart, and yes, an open mouth. (And for you doubters, may we direct you to the Sasha — straight up grilled cheese, no messing around.)  
Equipment
Ingredients:
2 slices white bread (we like sourdough best)
2 Tbsp. fig jam
4 thin slices cheddar
1⁄2 apple, cored and thinly sliced, divided (we recommend Granny Smith)
1 tsp. softened butter (optional)
Directions:
STACK IT.
Spread a thin layer of jam on each slice of bread.

On the first slice add the ingredients in this order: cheddar, 1/2 your apple.

Now close it up with the other piece of bread, jam side down. See how easy that was?
Note about butter: If you're using butter, it goes on the outside of the bread, like you would do if you were making a grilled cheese in a fry pan. You can put the butter on as a first or last step, but it's probably easiest to do first.  
TOAST IT.
Now place it in the Toastie Press and close and lock the press. Wipe around the outside of the press to clean off any drips with a paper towel. 
Place the filled Toastie Press into the right slot of your Revolution Toaster with the handles facing out.
Now make your next selection based on the model you have:
LOVE IT.
Serve with chips or a side salad. Or go old-school Vermont with a side of baked beans. Enjoy!
Download and print the Vermonter recipe card
SHARE IT WITH US.
Have you made the The Vermonter in your Revolution InstaGLO® Toaster with Revolution Toastie Press? Post a photo on Instagram and tag @RevCooking!
Recipe credit: Chef Tara Holland
Introducing the Revolution Toastie Press
Because big appliances are a big pain.
We're going to assume we don't need to sell you on the idea of a toastie. Who doesn't love the melty-deliciousness of a pressed sandwich, right? But big appliances are, well, a big pain. You need to lug them out, they can be hard to clean and they take up valuable counter space. This toastie attachment is our solution: Simple, compact and super easy to use it gives you the sandwiches you love, minus the mess and hassle you don't.
Heats up quickly: Deliver the toastie of your dreams in seconds not minutes. (Learn more about our safe, eco-friendly InstaGLO technology here!)
Easy to clean: Wipe down with a sponge or pop it in the dishwasher.
Small footprint: Stash it with your coffee, in your bread box or just sit it in the toaster when not in use.
Faster. Smarter. Tastier.
Shop now.