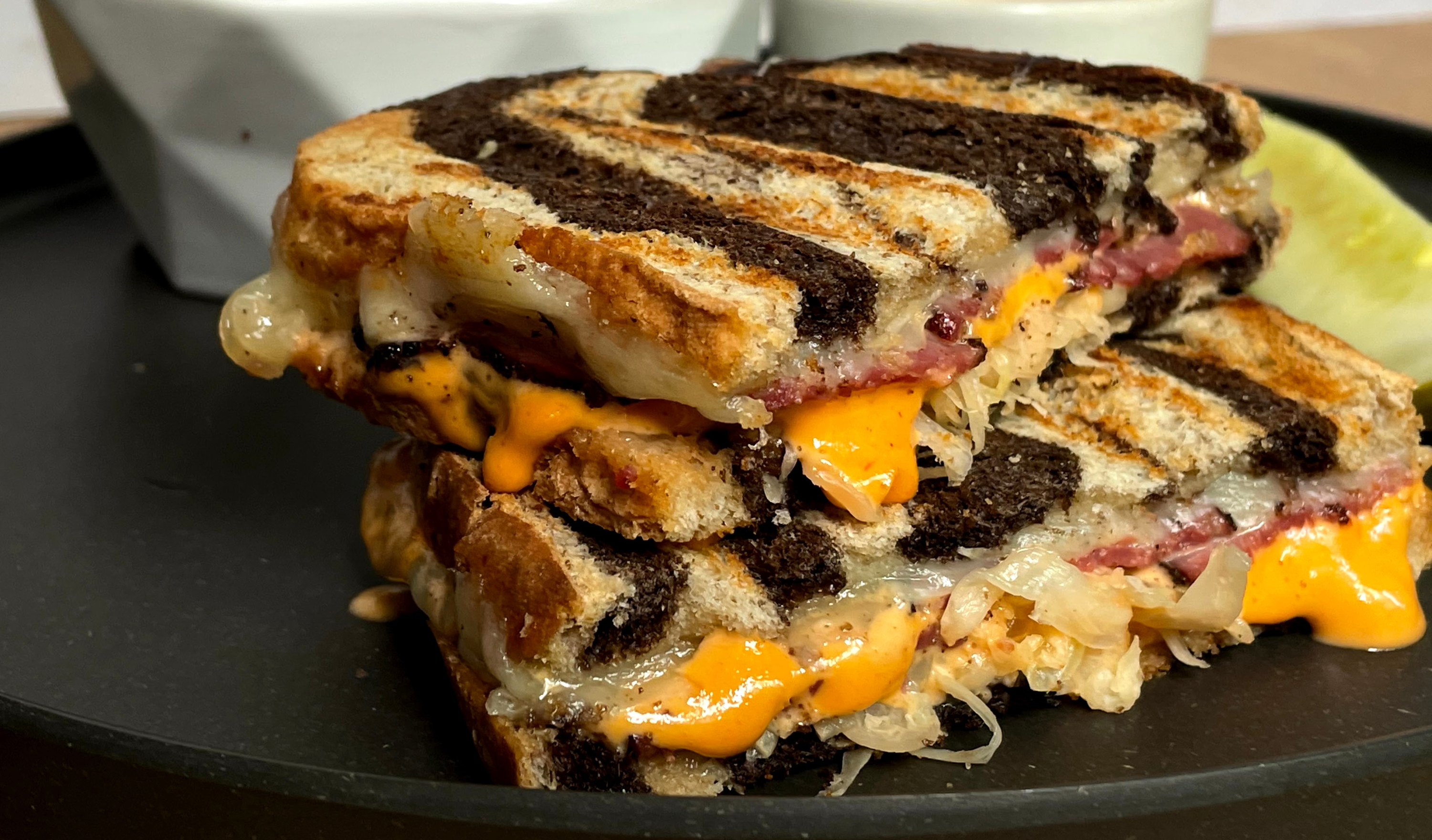 Love Gone A-Rye: Pastrami Reuben
| | | |
| --- | --- | --- |
|  Active time: 5 min | Cook time: 6 min | Serves: 1 |
"A hot mess." A classic insult for a reality TV star. The highest form of praise when applied to this classic sandwich. The Reuben has been a deli favorite for more than 100 years, beloved for its melty comingling of flavors: the salty pastrami, the tangy sauerkraut, the savory Swiss, and the zip of Thousand Island dressing, all pressed between two slices of rye bread. We never thought we'd have such strong feelings for a sandwich.
Equipment
Ingredients:
3 Tbsp. sauerkraut, drained

2 slices marbled rye bread or regular rye bread

2 slices Swiss cheese

1 Tbsp. Thousand Island dressing, plus more for dipping 

1 large slice deli pastrami (or 2 small slices) 

Dill pickle and potato chips for serving
Directions:
STACK IT.
First, press any excess liquid out of sauerkraut using paper towels. Set aside.

Next, lay out your two pieces of rye bread. Put a slice of cheese on each; trim so there's no overhang. On one piece of bread, layer the rest of your ingredients in this order: dressing, sauerkraut, pastrami. Close the sandwich.     
TOAST IT.
Now place it in the Toastie Press and close and lock the press. Wipe around the outside of the press to clean off any drips with a paper towel. 
Place the filled Toastie Press into the right slot of your Revolution Toaster with the handles facing out.
Now make your next selection based on the model you have:
LOVE IT.
Serve with a dill pickle, potato chips, and more dressing for dipping. Enjoy!
Download and print the Love Gone A-Rye recipe card
SHARE IT WITH US.
Have you made the Love Gone A-Rye in your Revolution InstaGLO® Toaster with Revolution Toastie Press? Post a photo on Instagram and tag @RevCooking!
Recipe credit: Chef Tara Holland
Introducing the Revolution Toastie Press
Because big appliances are a big pain.
We're going to assume we don't need to sell you on the idea of a toastie. Who doesn't love the melty-deliciousness of a pressed sandwich, right? But big appliances are, well, a big pain. You need to lug them out, they can be hard to clean and they take up valuable counter space. This toastie attachment is our solution: Simple, compact and super easy to use it gives you the sandwiches you love, minus the mess and hassle you don't.
Heats up quickly: Deliver the toastie of your dreams in seconds not minutes. (Learn more about our safe, eco-friendly InstaGLO technology here!)
Easy to clean: Wipe down with a sponge or pop it in the dishwasher.
Small footprint: Stash it with your coffee, in your bread box or just sit it in the toaster when not in use.
Faster. Smarter. Tastier.
Shop now.